BOSS Services
At BOSS we do more than just mow yards in and around Des Moines. We can take care of almost any of your outdoor needs from creating and planting flower beds, planting and maintaining trees and shrubs, cleaning up the yard in Spring and Fall, keeping your driveway and sidewalks clear of snow and so much more.
If you don't see a service you need, contact us anyway, we'll either find a way to get it done for you or will recommend someone who can.
Lawn Care
A vibrant and healthy lawn consists of more than just mowing. Beautiful lawns are created through regular fertilization, aeration, weed control, and much more. When you don't have the time or energy to nurture your lawn, call BOSS to service and beautify your yard, so you can spend your time enjoying it.
Learn more about BOSS lawncare services and contact us today to speak with a lawncare specialist about your lawn needs.
Landscaping
Outdoor living is part of Iowa living. By adding landscaping to your home, you can expand your outdoor living space by hundreds of square feet, giving you and your family more reason to spend time outdoors. Our specialists at BOSS can help you plan and create your outdoor dream space. We are your one stop shop for patios, retaining walls, rock beds, edging, fire pits and more. And because we use UniVision 3D Landscape Creator, you can see your plan before we even break ground on your Des Moines and surrounding landscape project.
Learn more about how our experts can help you create the outdoor living space you've always wanted.
Perimeter Pest Control
Perimeter pest control prevents insects from entering your home. A liquid insecticide application creates a protective barrier around the outside of your home. One of our pest control specialists will treat all areas 3 feet above the foundation and 4 feet out from the perimeter of the house. Although the pest control treatment is pet friendly, pets should be kept inside and away from the application until it has dried completely. The treatment is also entirely plant friendly. To prepare for the treatment, all windows on the first floor and basement levels should be closed, and anything in your yard, including hoses, tools, toys, and furniture, should be picked up and moved away from the foundation of the house before the application. Treatments are applied four times throughout the year.
Tree & Shrub Care
Depending on the time of year, trees and shrubs will need different care. Our technicians will use their expertise to create a plan just for you to keep them healthy, pest free and looking their best. Learn more about how BOSS can help keep your trees and shrubs in pristine condition.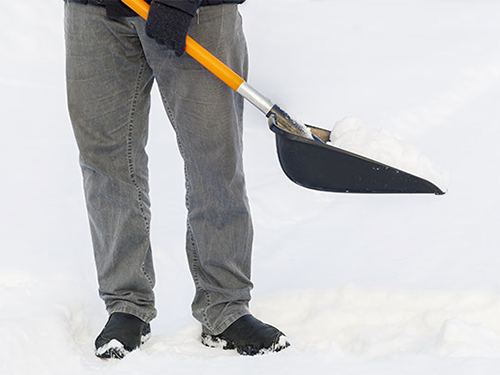 Commercial Snow Removal Services
Living and working in Iowa means dealing with weather extremes, including snow and ice storms. While these storms can leave the area beautifully decorated in soft white blankets of snow and shining crystals of ice, they also leave parking lots, driveways, and sidewalks dangerous to navigate. Learn more about how BOSS can leave you worry free when winter weather extremes pass through Iowa.
Mulch & Rock Beds
Mulch is often viewed as an unnecessary part of yard maintenance even though it offers many benefits to your landscaping. Learn more about differing types of mulch, and how the use of mulch can add benefits to your landscaping project. Then contact BOSS Outdoor to help you decide which is best for your landscape and then we will install and maintain it for you.